I replaced the rectifier tube in my VTA ST-70, readjusted the bias, and have been happily listening to music for the past few days, but today I heard pops from the left channel. After hearing the pops, I did a quick replay, heard the pops again, and immediately powered down the amp. I confirmed that the pops were not coming from the source or the program material.
I think the problem is a bad output tube, but would appreciate some feedback on whether my diagnosis is going in the right direction.
My diagnosis steps:
1. Check bias with the inputs shorted


V3 (left front) was ~0.435V

other three tubes were holding 0.400V +/- 0.002

2. Readjust bias on V3 to 0.400V.


bias started to climb continuously and increased above 0.450V

heard pops in left channel

3. Measure mains voltage
4. Remove tubes from right channel and install tube from V6 in V3 socket; readjust V3 bias to 0.400V.


V3 bias steady at 0.400V +/- 0.002V

no pops heard

5. Reinstall tube originally in V7; install suspect tube in V6.


as the amp powered up, the bias for V6 climbed above 0.400V and kept increasing

bias for V7 was constant at 0.400V +/- 0.002V

heard pops in right channel

increase in brightness from heater of V6 and sizzle from right channel

After the flare-up and sizzle I powered down the amp as quickly as I could reach the switch and have not turned it back on.
The tubes are Shuguang EL-34s that were new with the kit. My guess is that I have ~100 hours of operation on the amp and the tubes. The attached photo is the suspect tube. Note the white loops at the top of the heater. I see similar protrusions on the other left side tube (V2), but they are more pronounced on this tube. The tubes that I've been running on the right side do not exhibit this feature. My impression the past few days is that the tubes on the left side have been a little bit brighter than those on the right.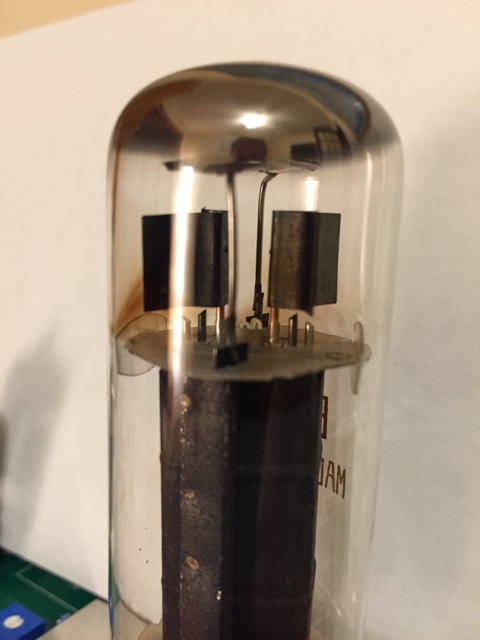 I put the sheet of paper behind the tube so that the brown cast on the tube was more visible. All of the tubes have a similar cast in roughly the same orientation.
My questions:


Is the output tube that had the high bias and the increase in brightness likely bad and the cause of the pops/sizzle?

Is it just an unhappy coincidence that I had a problem with the rectifier and now one of the output tubes?

Is there anything else I ought to check on the amp?

Is it normal to see the protrusions from the heater element?

Is the brown cast normal?

Thanks again for your help.