VTA-120 all in 1 (almost) PCB

Chad Spackman






Posts

: 17


Join date

: 2019-02-01


Age

: 64


Location

: Pennsylvania


stewdan






Posts

: 222


Join date

: 2010-03-07


Age

: 83


Location

: Houston Texas

Hi Chad ---- This looks very interesting. Please, give us some details on the Chassis and PCB. Who created them? Where? How? Etc?
Thanks,
Stew

Chad Spackman






Posts

: 17


Join date

: 2019-02-01


Age

: 64


Location

: Pennsylvania

Hi Stew, This is is the Roy Mottram/Bob Latino VTA-120 chassis and kits parts, placed on a 4 layer board. The board includes the output tubes and the few Cs and Rs that are normally mounted directly to the tube sockets or elsewhere in the chassis. So no great leaps here I'm just playing. I still intend the tube sockets be mounted to the metal chassis so as to not stress the board, although it's a heavy board. Experimenting a bit with what 4 layers offers in terms of shielding... How long it takes to build in this form... If it works out I might spin it again with an auto bias circuit. Might remove the quad cap and do that on the board... I'll post again when its done. Point point wiring is really quite appropriate for the output section so this may prove to not be the least bit useful. But like I said, I'm just playing...

tubes4hifi

Admin






Posts

: 1729


Join date

: 2008-11-30

Hi Chad,
I had thought about doing this many many many times over the past 10 years, but decided against it as it removes flexablilty in design and also if anyone screws up something on the board
anywhere that's alot of board to replace. Hopefully you did this board in 0.093" thickness instead of the standard 0.62" thickness.
Also, since you playing with this, I'd suggest NO quad cap, it's very EZ to get some 600v caps that will go on the PCB, one 33uF on the output of the rectifier and two 60uF or two 80uF
after the choke. I've got the caps if you're interested. I see you have C3+C4 on the board to use maybe 22uF 350v in series, but you still need another 68-150uF after the choke at 450-500v.
Roy tubes4hifi

Chad Spackman






Posts

: 17


Join date

: 2019-02-01


Age

: 64


Location

: Pennsylvania

Hi Roy,
Thanks for commenting! All points taken. The board is an 1/8 inch thick with attention to clearance/creepage given there are a bit more 500v routes than stock. You're right on screwups and the cost of board replacement. I hadn't thought of that angle. After playing with the layout and design it ended up reinforcing in my head, the way you have it, and why it makes such a nice kit as is. The quad cap is always been a concern of mine because of where I live. We have a very long power line run to the road. Quite a few out buildings with large spikey current draws, including my lab. Even with a local buck transformer in the line I get some pretty good whoopty-doos on the AC. I figure that quad cap is awfully close to the margins and probably would be quite a fright if it pops. Thanks for info on caps... Still thinking... I'll let you know where I wind up. Off to plow snow. Longs power lines and long driveway too


Chad Spackman






Posts

: 17


Join date

: 2019-02-01


Age

: 64


Location

: Pennsylvania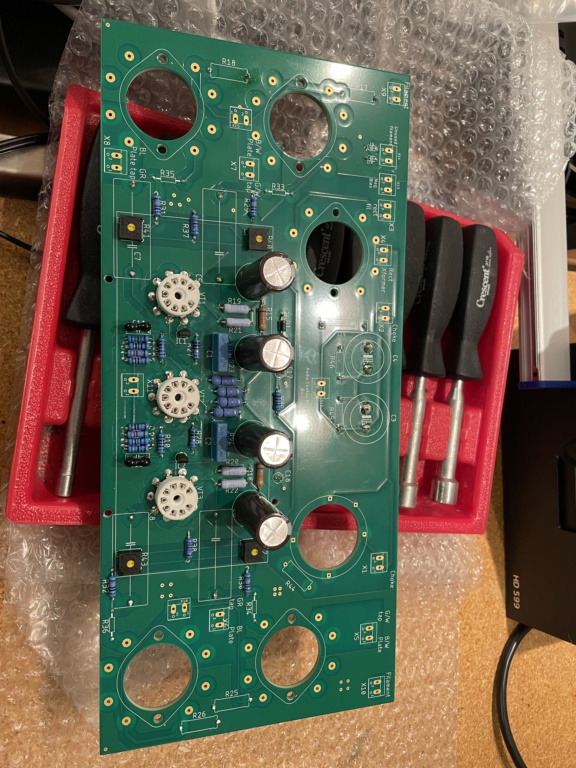 Couple more pictures after board stuffing. The power transformer is in around the other way to escape the wiring. I should have put a cutout in the board for it.
Quad CAP still in... Supplemental caps are right next to power xformer. From here on out it's just wire. The quad cap, rectifier, and output tubes will all be point to point soldered. Anything to and from transformer will be connected to board under a screw terminal.

Chad Spackman






Posts

: 17


Join date

: 2019-02-01


Age

: 64


Location

: Pennsylvania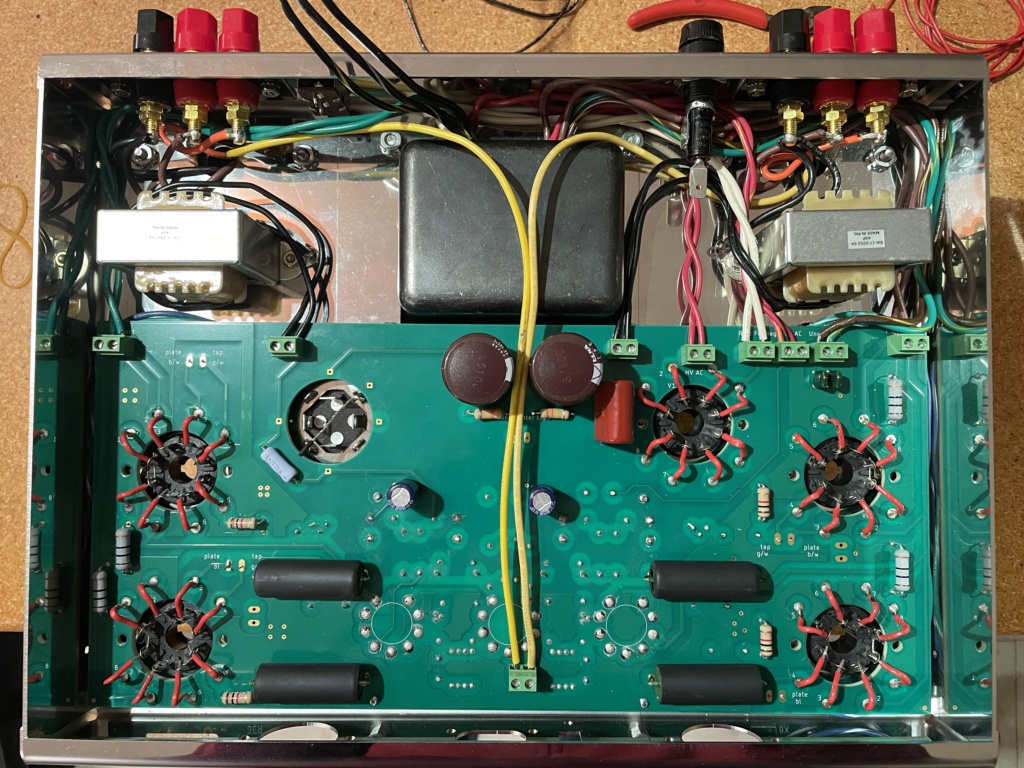 Not 100% complete but you get the idea. Another 5 minutes of work and its done. Wire AC and quad cap (just jumpers) In hindsight I'd have nixed the quad cap which would make it a good deal easier to separate the chassis GND from Audio. I made a couple other mistakes. No eyelets for audio in, which would seem like a useful thing for an amplifier. But easily remedied. Unless it explodes, which I will surely video, that's that.

MechEngVic






Posts

: 96


Join date

: 2019-01-16

Neat! Similar to the series 2 that I have, all on one board. I wish my ST-70 II had that quality of board!!

Chad Spackman






Posts

: 17


Join date

: 2019-02-01


Age

: 64


Location

: Pennsylvania

I went and looked up a series ii. The first thing that came was you!!  Selling one!!  Anyway, I looked further. Your right, extremely similar and a simple 2 sided board.