It's a Sunday afternoon and I just finished a listening session so thought I'd kill a little time here with this..
Seems to me that over the years us "Hi Fi" enthusiasts are always looking and listening for that next component to put in the system to see if it sounds any better.. We mix this preamp with that power amp, try those speakers.. then we hear our buddy's system and like his speakers better.. on and on. This is the stuff that brings us here.
Every once in a great while if we are lucky we hit that magic combination that works for us.
During the last winter I built a VTA 70 kit and had a great time doing it. I also restored an HK Citation I preamp I bought. After it was all done I hooked up a set of bookshelf speakers I had.. It all sounded pretty good, but I knew I needed to get some vintage Alnico magnet speakers. Well as luck would have it I found a minty pair of 12TRXb speakers on Ebay AND an equally nice matched pair of kit built EV Aristocrat type speakers.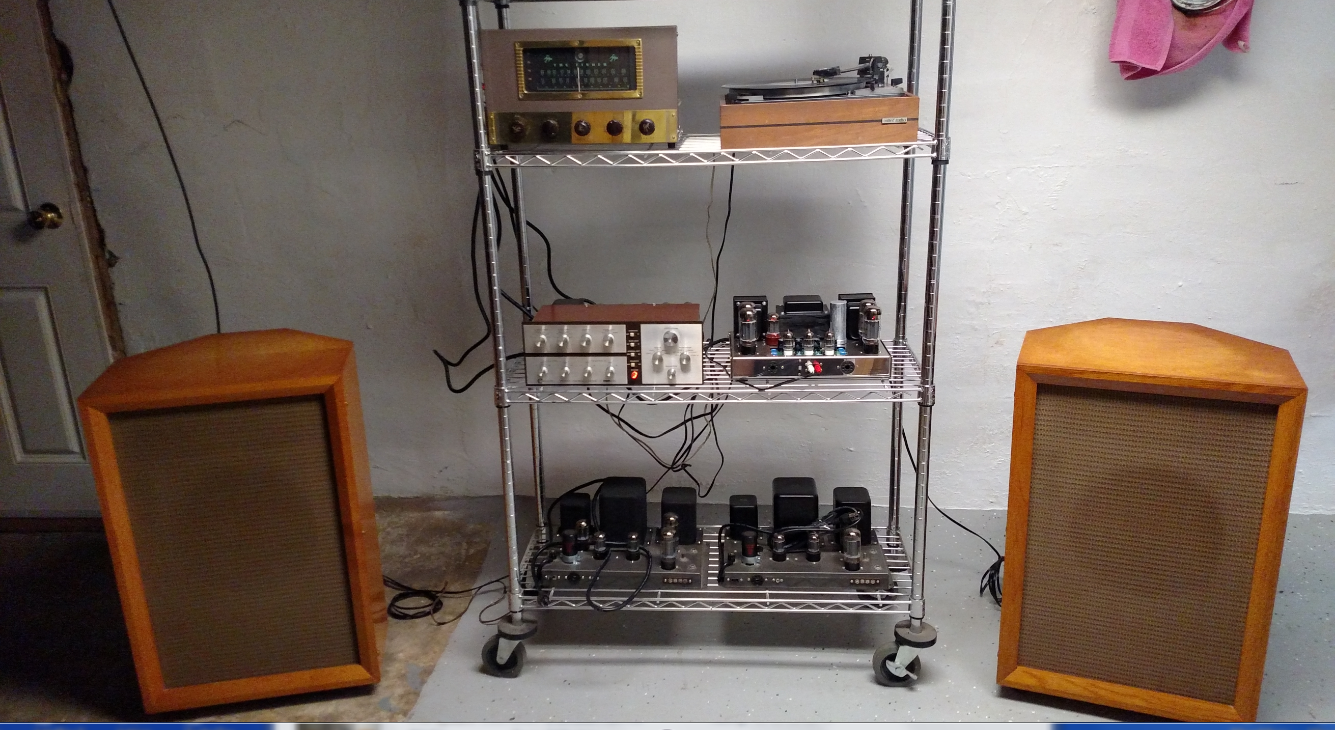 This is the system in my shop area in basement.
After hooking it all up and running it through it's paces I think I have stumbled onto a perfect matching of components.
The Citation I is a legendary preamp in it's own right, The VTA 70 is  a world class tube amp and the EV Aristocrats with 12 TRXb speakers top it all off.
The phono section of the preamp is outstanding. I am also feeding a DVD/CD player into it for CD playing. The system has plenty of punch with a nice chest felt bass. The stereo imaging is wonderful. The triax speakers with the VTA pushing them really presents a wonderful soundstage. This amp does not cease to amaze me. PWK really worked some magic when designing those Aristocrats. It all just goes so well together.
I keep looking for different things to listen to. At this time no matter what recording I have played, I cannot find fault. The system is just a pleasure to enjoy.
As soon as the addition we are building to the house is done this system will be moving on up into a place in the home.
Last edited by Pat R. on Sun Aug 30, 2015 6:04 pm; edited 5 times in total (Reason for editing : Better picture)