My Dynakit Parts ST-35 kit arrived on Wednesday. I completed it yesterday evening, total time spent, about 15 hours. After completion it powered up but with some intermittent static in the right channel. After inspecting it on the bench I discovered a bare ground wire was just barely making contact with an adjacent tube pin. It took a few seconds to fix.
I have it burning in as I type this.
PACKAGING: The kit was very well packed. The components were individually packaged and cushioned with bubble wrap. The heavy transformer boxes at the bottom of the carton were taped securely in place to the inside of the carton.
ASSEMBLY: I took a quick inventory and found the electronic parts, resistors, capacitors PCBs, in individual bags and labeled. This made it easy to find the right part during assembly.
The two manuals, one for stuffing the PCB and one for mechanical assembly and wiring, are well written, clear and accurate. This made the whole process of assembly enjoyable.
FIT AND FINISH: In a word, BEAUTIFUL! Kevin included the stainless steel chassis for the same price as the cadmium steel chassis. (THANKS Kevin!) If you're going to build this kit I highly recommend the SS chassis. It looks awesome. I also opted for the tube cage, which is a bit pricy. But trust me, it's worth it. The HEAVY transformers are nicely finished in a gloss black. After completion the ST-35 is an impressive piece.
As far as I can tell the new ST-35 kit from Dynakit Parts is a very accurate reproduction of the original Dynaco kit from 40+ years ago. It feels hefty and has a classic look to it.
SOUND: I chose JJ 12DW7 and Sovtek EL84M tubes for this kit. The ST-35 sounded great right off the bat. The EL84M are detailed but a bit bright with strong bass. After burn-in they may mellow out. I use a pair of full range DIY speakers, Tang Band W8-1772 drivers in a bass reflex 40 liter cabinet. The W8-1772 SPL are about 94db or 95db. The ST-35 drives these to very loud volumes easily. Bass is strong, deep and clean. Soundstage is holographic.
CONCLUSION: I HIGHLY recommend this kit. It's a gem.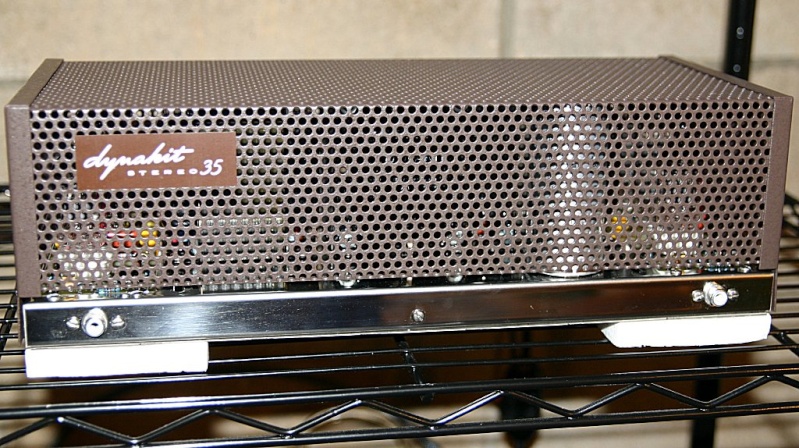 Last edited by JimOfOakCreek on Sat Jul 02, 2011 10:56 am; edited 2 times in total (Reason for editing : grammar error)