My Stereo 70

Lou deGonzague




Posts

: 2


Join date

: 2019-01-12

Here is my 70, very nice condition.  New caps and driver board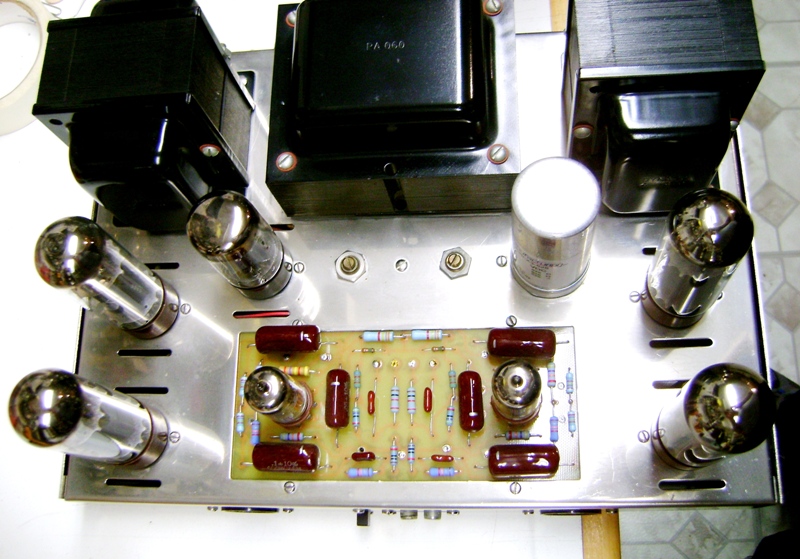 WLT




Posts

: 127


Join date

: 2013-07-13


Location

: Rochester NY

It looks great. The replacement board looks like the original circuit with the 7199. Correct? Where did you get the board? and then where did you get the metal film resisters and caps from? Or was it all sold as a package?

It looks very clean so I assume you cleaned and polished it. Any special products used? Or is is new?

The all important question. How does it sound?

I am working on my ST70 which is in about the same physical condition as yours but with the original board. Replacing all out of spec resistors and the feedback caps.

Lou deGonzague




Posts

: 2


Join date

: 2019-01-12

Don't remember where I got the board, off eBay I guess it was a while ago. I had the caps and got the resistor at a local supply house. I think I used Top Brite metal polish, the amp was in very nice condition when I got it. The filter cap came from AES. The traces on the original board are easy to lift off so I went with a nice new fiberglass one.

WLT




Posts

: 127


Join date

: 2013-07-13


Location

: Rochester NY

Your amp looked so nice I had to finish mine. The last of the capacitors came in so I finished it yesterday. Polished it and just set the bias. I thought I would post a photo of it here. Both amps look very nice and the biggest difference is your new board vs. my original board. Mine has all new caps through out, 14 resistors replaced to bring them within 2% tolerance of published schematic. Even better tolerance channel to channel. 6GH8s with adapters. Sounds just fine.

pichacker




Posts

: 103


Join date

: 2016-08-01


Age

: 56


Location

: Near to London - UK

Is that just the photo or is the Getter a little soft on the rear right tube? Nice and clean.

PeterCapo




Posts

: 927


Join date

: 2008-12-05

Nice to see these classics get the care and respect they deserve!